On July 14th, 2020, Illuminate organised a webinar via Zoom on Networking for Global Professionals in Post Pandemic World. The webinar was open to all the students irrespective of their universities or colleges. CA Nidhi Nagori, a CA|CPA from the USA, A coach, an influential Youtuber, and an amazing international speaker was invited to address the webinar.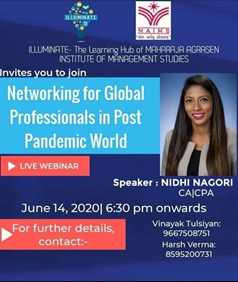 The webinar started with a brief introduction of the speaker, CA Nidhi Nagori and an explanation of Networking by Ms. Anshika Batla (General Secretary). After her brief introduction, CA Nidhi Nagori started explaining how Networking can be tough even in normal times, but today's remote world has added a whole new set of challenges to it.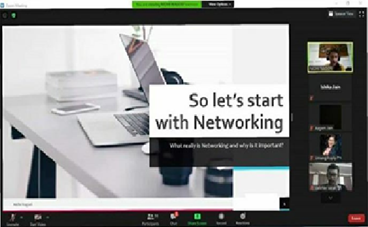 Ms. Nagori explained how the situation will change in the post-pandemic world. She started by explaining the ways and technologies which weren't used before as commonly but are going to become a core component of the post-pandemic world, like, uses of technology in businesses, job creation, global presence, etc.
The keynote speaker CA Nidhi Nagori spoke about a variety of issues that suspends the growth of an individual as a professional. She suggested starting contacting people around the world who are ahead in your field and reach them with proper research and queries. The other thing she suggested was to keep posting regularly on your social media. She explained how LinkedIn has evolved as an important professional platform for all professionals.
She gave some tips for optimizing LinkedIn. Some of them were; Good Headshot, catchy headline, an interesting and innovative Bio, sending personalized invites over the regular invites, importance of Relationship building instructions over transactional instructions, structuring the thoughts so that it impacts your targeted network and then posting accordingly.
CA Nidhi Nagori then enlightened everyone with the importance of building engagement and the ways she suggested were; sharing posts that are related to you, commenting, and posting on LinkedIn (but it is not necessary to post regularly). She further suggested ways to make an attention-grabbing LinkedIn's profile headline. She gave some highlighters that should be used to create an interesting headline-
1. What is it that you are?
2. What is it you identify yourself with?
3. What is it you want to be defined by?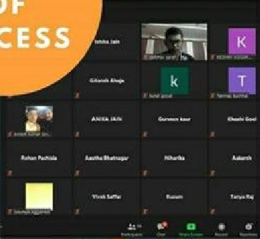 During the webinar, she gave the webinar's participants a chance to ask their queries about the topic. After an interactive Q&A session the webinar moved towards it's conclusion. In the end, Mr. Harsh Verma (Vice President) thanked her for joining them, on the behalf of everyone present in the meeting.