With the success of its previous seminars on Entrepreneurship, Illuminate organized a second webinar on "Entrepreneurship & Leadership". The webinar was organized on August 6th, 2020. The webinar focused on Entrepreneurship and how to inculcate entrepreneurial skills. The webinar was open for all students. During the live webinar attendees shared their opinions, thoughts, and suggestions.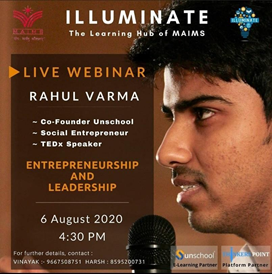 Mr. Rahul Varma was invited to address the webinar. Mr. Rahul Varma is a TEDx speaker, CEO, and Co-Founder of Unschool, an e-learning start-up which is an e-learning start-up which provides online paid educational courses along with the internship opportunity. Unschool is also ranked as 3rd on LinkedIn's 2020 top start-ups in India.
Mr. Rahul Varma started the webinar with an introduction to his life which made the audience instantly connect with him. He shared his story about how the idea for his start-up Unschool emerged. He shared about its execution plan, what difficulties he faced with setting up Unschool and how with help of his team he overcame all the difficulties. He mainly discussed what should be the main idea while a person is thinking about starting his Start-up. His prime focus was on an idea that solves ongoing problems in society.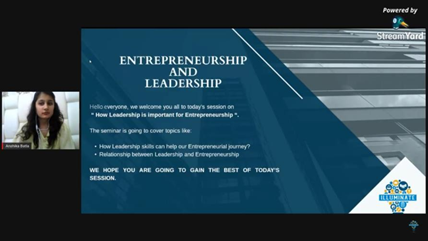 Along with these topics, he explained the reality of the start-up world. He discussed the general problems that one could face if he wants to start a start-up. He cleared all the general myths and hoaxes about owning a Start-up.
Then he asked participants to ask their queries. The participants came forward with some exceptionally brilliant questions and the speaker answered them in a detailed manner. Questions came from all the aspects considering the finance and investment opportunities to how an impressive tagline can be created.
The Q&A session was successful as it witnessed two-way communication between the attendees as well as the speaker. The Q&A revolved around the basics which a person must take into consideration while going with the idea of a start-up.
The webinar concluded on a great note with positive feedback from both attendees as well as the speaker, Mr. Rahul Varma.